This Self-propelled Corn Combine Harvester is a professional Corn Harvester used for harvesting corn, very convenience for farming. It can picking, peeling, cutting and shattering the straw, collecting shattered straw for recycle, returning shattered straw to field. With great adaptability, high security, top performance and high efficiency, this machine won a leading position in both domestic and abroad corn harvest machinery field and could satisfy various requirements of different users.
Gold Dafeng four row corn/maize harvester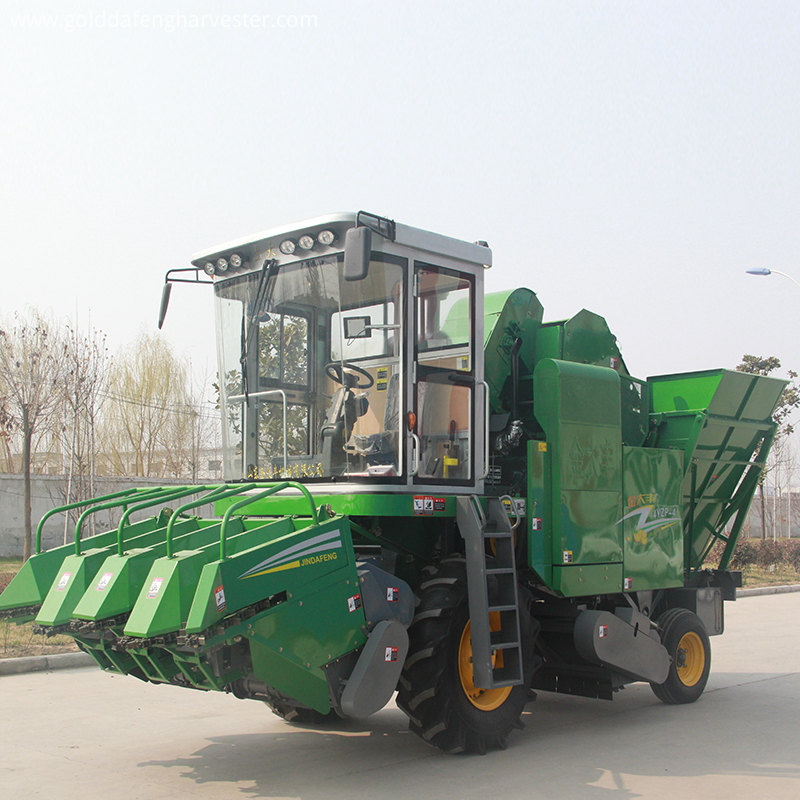 Features:
1) Supporting reel protect cover makes repair and maintenance convenient.
2) Hidden front ladder makes operation simple and getting on/off convenient.
3) Vibrating sieve and twice re-threshing and seperating makes corn cleaner
4) Clutch on straw disintegrator can protect the harvester from being damaged with sudden power failure.
5) Hydraulic control of real lifting and corn turning over
6) Infrared monitor system
7) Straw crusher set: can meet different needs according to users and be operated conveniently.
Technical parameters:
| | | | |
| --- | --- | --- | --- |
| Model | 4YZ-4 | Husking rolls | 20 |
| Power(KW/HP) | 117/160 | Picking mode | Combined type of pulling stem roller and picking board |
| Dimension(L*W*H) | 7200*2500*3360 | Shift gears mode and No. | Step-less shift gears; 4 shifts and 1 reverse gear |
| No. of harvesting rows | 4 | Tread (mm) of driving wheel ( former axle) | 1950 |
| Model of diesel motor | Weichai | Tread (mm) of driving wheel (rear axle) | 1845-2145(changeable) |
| Fuel consumption (kg/h) | ≤25 | Wheelbase(mm) | 3550 |
| Adapting row spacing/ best row spacing | 550-600/600-700 | Min. turning radius (mm) | 6250 |
| Working range (mm) | 2310 | Max. unloading height (mm) | 2130 |
| Total weight (kg) | 6350 | Min. picking height (mm) | 300 |