The maintenance of the Corn Harvester is directly related to the technical status and performance of the machine. In order to ensure the good operation of the machine in the coming year, the following maintenance points must be kept in mind: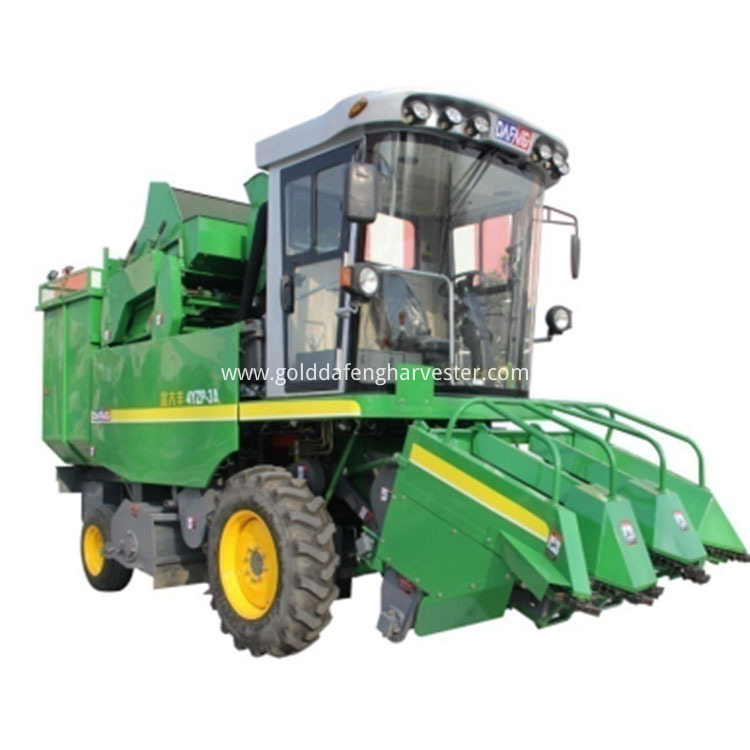 First, the preparation for storage
1. Before entering the warehouse, completely remove the mud, grass, dust and other debris attached to the machine, especially remove the residual crop seeds attached to the vertical and horizontal augers, grain containers, and intermediate conveying devices. To prevent the sprouting of seeds and damage the machine parts.
2. Relax belts, chains, springs, and track tensioners. Turn on the engine drain switch and turn off the switch after draining. Chains and springs should also be lubricated and sealed. Remove the belt, wash it with soapy water, dry it, and store it. Clean the filters and radiators. Check gearbox oil, hydraulic fluid, and replace as necessary.
3, check the clutch and the main clutch friction plate, the separation of the bearing, depending on the work of the adjustment or replacement. Remove each spherical bearing and add lubricant from the small round hole. Remove the battery power cord, remove the battery, and pour out the battery fluid. Rinse the battery and zinc plate repeatedly with distilled water and seal it after drying.
4. Clean the cutter and sprocket and apply anti-rust oil to prevent corrosion. Check the damage of parts of each working part and repair or replace it depending on the damage. Lubricate all moving parts adequately.
Second, care should be taken in the process of custody:
The structure of the corn harvester is mainly sheet metal structural parts that are easily deformed and corroded. Therefore, choosing a vault is the key. Combine harvesters must be stored in a ventilated, dry room and are not allowed to be placed in the open air. Tracks must not come into contact with gasoline, engine oil, etc. When entering storage, two planks should be placed under the track. The header must be lowered to the lowest position and overhanged with a log. During the storage process, the hydraulically operated valve and the distribution valve shall be moved 15 times per working position each month, and the crankshaft of the engine shall be rotated several times to lubricate the piston and cylinder. Finally, it should be covered with tarpaulin to prevent dust and debris from entering.
In order to maintain a good technical condition of the corn harvester during the operation, the operator only strictly follows the precautions for storage and maintenance, so as to extend the service life of the implement, exert the best performance of the implement and increase the economic efficiency.
Shandong Gold Dafeng Machinery Co., Ltd.
Address: End of North Dayu Road, Yanzhou District, Jining, Shandong, China
Telephone: +86-537-3839001
Mobile Phone:+86-18463797828(whatsapp)
QQ: 841455072
E-mail: jiangmingpan@sddfjt.com