Technical Parameters

Model

754

804

904

1004

1104

General




Parameter

Drive Type

4WD

Dimensions LxWxH (mm)

4520×2135×2750

4520×2135×2750

4520×2170×2850

4520×2170×2850

4650×2150×3040

Front Wheel Track (mm)

1569-2005

1630-1960

Rear Wheel Track (mm)

1500-2100

1520-2120

Wheel Base(mm)

2325mm

Ground Clearance (mm)

370 mm

430mm

440mm

Rated Traction Force (kN)

16.5 kn

17.6 kn

19.8kn

24kn

26kn

Min. use weight (Kg)

3540kg

3675kg

3920kg

Min. Turning Radius (m)

≤5.3 m

Speed range

1.55-27.99Km/H

1.57-28.35Km/H

1.6-33.77Km/H

Diesel Engine

Model

YT4B4-23

YT4B4-23

LR4M5-23

LR4V5-23

LR6B3-23

Type

4 Cylinder , 4-Stoke Cycle Water

Cooled,Vertical aligned

6 Cylinder , 4-Stoke Cycle

Water Cooled,

Vertical aligned

Rated Power (kw/hp)

55.1kw75HP

58.8kw/80HP

66.1kw/90HP

73.5kw/100HP

80.8kw/110HP

Rated Speed (rpm)

2300

2300

2300

2300

2300

Bore x Stroke (mm)

108×130

108×130

112×135

115x135

108x125

Rated fuel consumptio

rate

≤242 (g/Kw.h)

Transmission




System

Gear Box

Combined 12F+4R 12 forward gears , 4 reverse gears,creeper shift (24F+8R)

or shuttle shift (12F+12R) for option

Rear axle--Central transmission

Spiral Bevel gear

Rear axle--Differential

4 planet bevel gears

Rear axle--Differentila Lock

Locking pin type

Rear axle--Final Transmission

Single planet bevel gear,outer mounted at both sides of rear axle

Front drive --Transmission shaft

Central Transmission shaft

Front drive -Central transmission

Spiral Bevel gear

Front drive -Front diffenential

2 planet bevel gears

Front drive-Final Transmission

Single-planet gearsing

Clutch

dry style double action

Traveling

Mechanism

Front Tyre

11.2-24

11.2-28

13.6-24

Rear Tyre

16.9-30

13.6-38

16.9-34

Steering Gear

Hydraulic Steering

Brake

Oil Immersed Multiplate Disc

Working

Device

Oil fuel tank

145 L

Lifting Capacity

(at 610 mmBehind

LiftPoint (N))

≥13.3kN

≥14.2kN

≥15.9kN

≥17.6kN

≥19.5kN

Hydraulic System:

3-Point Suspension

P.T.O shaft : Rotating

Speed (rpm)

540/1000

Spline Size

6-Ø35 Rectangular Spline
1. Matching the 485 diesel engine, Large torque reserve, Strong power;
2. Using 8 + 2 meshing swap file, reasonable matching speed, high efficiency;
3. Power emissions upgrades, performance, low fuel consumption, high reliability;
4. The body is small, short wheelbase, compact structure;
5. Using underneath type exhaust pipe bending, rear accumulator, overall appearance is narrow;
6. The power output double speed 540/720, can form a complete set of various agricultural machinery;
7.Flat floor, hanging pedal, flexible and easy to operate;
8.Hydraulic steering, steering is more flexible.
1. Matching the 485 diesel engine, Large torque reserve, Strong power;
2. Using 8 + 2 meshing swap file, reasonable matching speed, high efficiency;
3. Power emissions upgrades, performance, low fuel consumption, high reliability;
4. The body is small, short wheelbase, compact structure;
5. Using underneath type exhaust pipe bending, rear accumulator, overall appearance is narrow;
6. The power output double speed 540/720, can form a complete set of various agricultural machinery;
7.Flat floor, hanging pedal, flexible and easy to operate;
8.Hydraulic steering, steering is more flexible.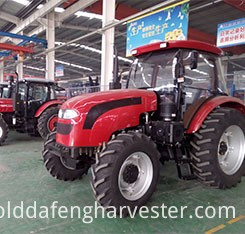 Shandong dafeng Import and Export Co. Ltd. professional tractors manufacturer and we are skilled at the exporting of various agricultural machine. Our factory has ISO certificate, with strict quality control from raw material to final products. They are exported to each continent in the world . We provide the beat service to every customer and are willing to help you. Welcome your visiting....