Introduction
1.Based on European and American technologies, the diesel engine is powerful and fuel efficient.
2.Our Wheeled Tractor can supply sufficient tr-active force to move large implements.
3.Multiple transmission gears, wide speed range, high operating efficiency.
4.Hydraulic steering together with small turning radius makes our wheeled tractor maneuverable and flexible in steering.
5.The use of hydraulic braking ensures reliable braking and high safety.
6.Due to its large fuel tank, the tractor can operate continuous over a long period of time.
7.Elector-hydraulic control of differential lock results in effortless operation.
8.Dual rear wheel configuration is optional.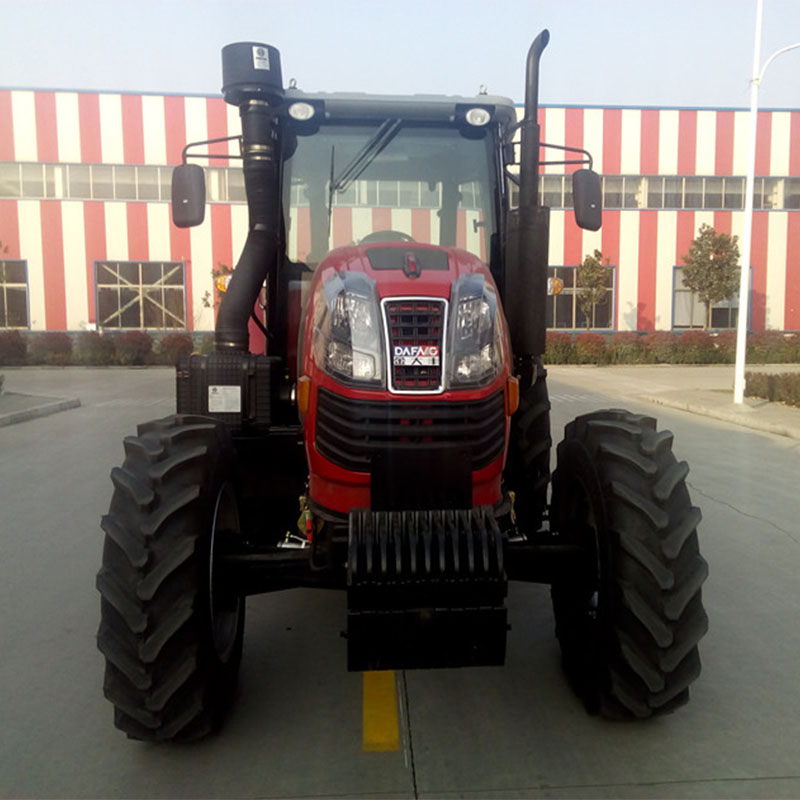 Model

GDF1404

Drive type

4x4

Engine

Engine model

D4114ZLGTB

Lowest fuel consumption

≤230

Engine power (kw)

103

Transmission

Clutch

Dry,independent type, single function clutch
,

PTO speed(rpm)

540/1000

Gear shift

(7+1)x2

Hydraulic system

Hydraulic output valve

3-way,3

Three point linkage 3

Category of 3-point linkage

Rear, Category III

Lifting capacity(at point 610mm)

30.38

Technical parameter

Length x Width x Hight mm xx

5350x2435x3230

Wheel base(mm)

2700

Track base(mm) front wheel

1820

Track base(mm) rear wheel

1945

The smallest clearance(mm)

430

Front tire size

14.9-26

Rear tire size

18.4-38
After-sales service
1.Warranty
Gold Dafeng grants our clients twelve-month-period warranty for any machine purchased from us which could reach the certain target quantity. During the warranty period, in case the defect of material or workmanship has occurred with spare parts in normal operation, the defective part will be repaired or replaced free of charge, at our discretion.
2.Spare parts
Gold Dafeng is dedicated to provide our clients with genuine spare parts with the highest quality, exact fitness and appropriate function. With our global distributor network, you are guaranteed with fast delivered and services, wherever you are, please submit your spare parts request to us, and list products name, model, equipment serial number, description of required parts. We guarantee that your request will be handled quickly and appropriately.
3.Installation&Maintenance
Gold Dafeng is able to provide you with the overall installation of complicated machinery and equipment, allowing you to start the normal operation of handling machinery immediately. After installation, we will make inspection of the whole machine, operate equipment, and provide you with testing data reports of installation and operation.
4.Training
Gold Dafeng offer perfect facilities and comfortable environment and can provide training service to different users. The training sessions include product training, operation training, maintenance know-how, technical know-how training, standards, laws and regulations training and other training, all of which are tailored to fulfill your individual needs. Training programs can be conducted in our factory field, or at the client`s site.
5.technical advice
Gold Dafeng can also help clients coordinate with trained service personnel to provide you detailed and extensive knowledge about your specific machine. With our technical advice, your machine service life can be significantly prolonged and sustained with high capacity.