Advantages:
1.Adopting Weichai diesel engine,good reliability,large torque reserve,low fuel consumption,
high economic benefits;
2.Adopting 13 inch double clutch ,high transfer ability,reliable effect,operation more comfortable;
3.Gear box use 4X(3+1), 12 forward gears,4 reverse gears, gear are reasonable, high working efficiency;
4.Adopt independent power output device,steady transmission,large bearing capacity;
5.Using independent oil hydraulic steering system operation,flexible operation,reliable energy saving;
6.Using disc brakes,large braking torque,good braking effecting;
7.Using forced type lifter, reliable use, convenient maintenance;
8.Final drive adopts planetary reduction structure,compact structure, large reduction ratio;
9.New streamlined appearance, greaceful ,fashion;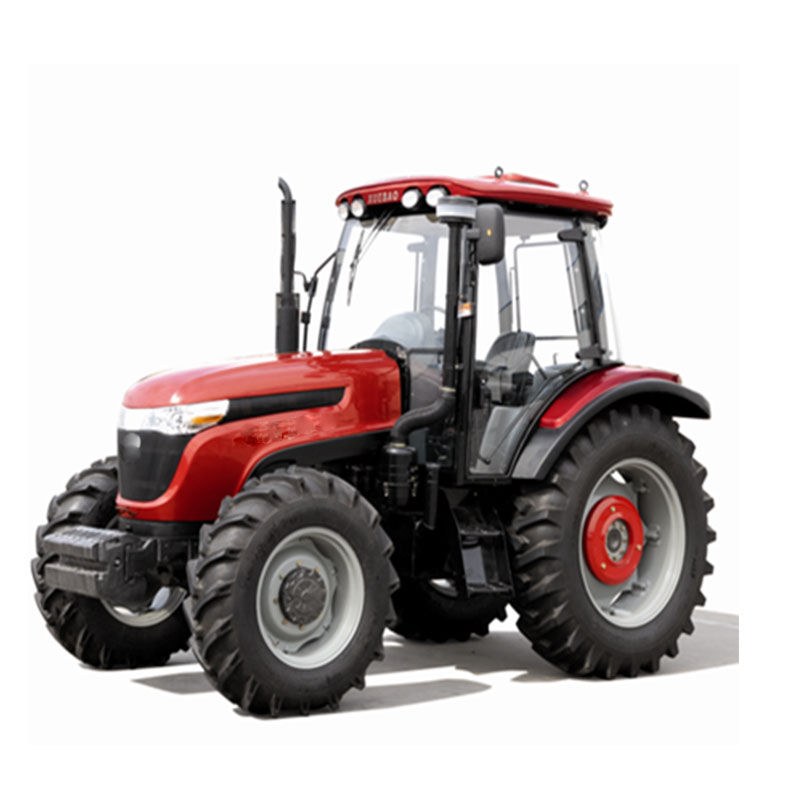 Tractor Model

1104

Tractor Type

110hp, 4wd

Engine Type

6 cylinders/ 4 stroke

Engine power (kw)

81

Rated speed (r/min)

2300

Parameters

Min. Turning radius

7.0±0.3

Rated traction force

≥27KN

Theoretical Speed range

Forward(2.06-26.92km/h)
Reverse(4.45-12.59km/h)

Max. lifting force

>24KN

Wheel Tyre

Front Wheel Tyre

14.9-24

Front Wheel Tyre

16.9-38

Dimensions

Min. Ground clearance

470mm

Wheelbase

2688mm

Front wheel tread

1672-2003mm
(1760mm when they leave factory)

Rear wheel tread

1662-2262mm
(1662mm when they leave factory)

Overall dimension (L*W*H)

5040*2255*2860mm

System Model

Gear Shift number

Independent form, the all-hydraulic front wheel changes direction.

PTO (r/min)

The all hydraulic power steeringBZZI-E1000C

Hanging Device

Independent form, the all-hydraulic front wheel changes direction.

Lifting Device

The all hydraulic power steering

Model of Steering device

independent oil way,front-wheel turn with full hydraulic

Control model of plough depth

independent oil way,front-wheel turn with full hydraulic
After-sales service
1.Warranty
Gold Dafeng grants our clients twelve-month-period warranty for any machine purchased from us which could reach the certain target quantity. During the warranty period, in case the defect of material or workmanship has occurred with spare parts in normal operation, the defective part will be repaired or replaced free of charge, at our discretion.
2.Spare parts
Gold Dafeng is dedicated to provide our clients with genuine spare parts with the highest quality, exact fitness and appropriate function. With our global distributor network, you are guaranteed with fast delivered and services, wherever you are, please submit your spare parts request to us, and list products name, model, equipment serial number, description of required parts. We guarantee that your request will be handled quickly and appropriately.
3.Installation&Maintenance
Gold Dafeng is able to provide you with the overall installation of complicated machinery and equipment, allowing you to start the normal operation of handling machinery immediately. After installation, we will make inspection of the whole machine, operate equipment, and provide you with testing data reports of installation and operation.
4.Training
Gold Dafeng offer perfect facilities and comfortable environment and can provide training service to different users. The training sessions include product training, operation training, maintenance know-how, technical know-how training, standards, laws and regulations training and other training, all of which are tailored to fulfill your individual needs. Training programs can be conducted in our factory field, or at the client`s site.
5.technical advice
Gold Dafeng can also help clients coordinate with trained service personnel to provide you detailed and extensive knowledge about your specific machine. With our technical advice, your machine service life can be significantly prolonged and sustained with high capacity.