Self-propelled Wheeled Tractor 100hp Advantages:
1. Domestic famous wheeled tractor diesel engine, strong power, low fuel consumption.
2. Double clutch, more reliable usage, adopting to different operating circumstances.
3. Advanced reliable gearbox has a reasonable velocity distribution, synchronized shift, convenient operation, and high work efficiency.
4. Adopting full hydraulic steering, Wheel Tractor reliable air brake system, which are very easy and simple to handle.
5. wheel tractor Wheel track is adjustable, which can meet the special needs of various regions.
6. Reliable front and rear axle design.
7. This series of products has suitable power, compact structure, high transmission efficiency, light weight, and simple maintenance. Its super performance could meet your requirements.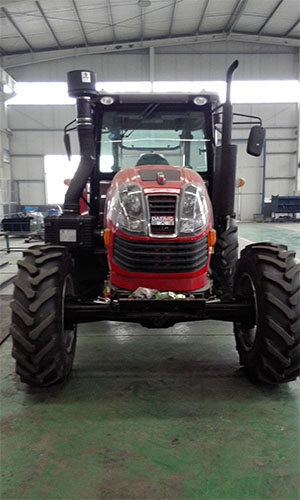 Self-propelled Wheeled Tractor

Model

1004

Drive type

4x4

Engine

Engine model

Yuchai YC4A140L-T20, 4 cylinder, direct injection, in-line, turbo Engine

Capacity of fuel tank(L)

150

Rated speed (r/min)

2300

Engine power (kw)

88

Lowest fuel consumption (g/kw·h)

≤242

Transmission

Clutch

Dry,Dual-stage type

PTO Speed(rpm)

540/1000 or 760/1000(optional)

Gear shift

8F+4R/8F+8R(optional)/16F+8R(optional)

Three point linkage

Category of 3-point link

Category II

Lifting capacityat point of 610mm(KN)

>16

Technical parameter

steering

hydraulic steering

hydraulic outlet valve

2-way(optional)

Dimension LxWxH mm

3700x2050x2700(with cabin)

3700x2050x2100(without cabin)

Weight(KG)

3950(with cabin)

3700(without cabin)

Wheel base(mm)

2195

Track base(mm) front wheel

1610

Track base(mm) rear wheel

1620-2020 (usual 1620)

The smallest clearance(mm)

379

Front tyre

11.2-24

Rear tyre

16.9-34/18.4-30(optional)
After-sales service
1.Warranty
Gold Dafeng grants our clients twelve-month-period warranty for any machine purchased from us which could reach the certain target quantity. During the warranty period, in case the defect of material or workmanship has occurred with spare parts in normal operation, the defective part will be repaired or replaced free of charge, at our discretion.
2.Spare parts
Gold Dafeng is dedicated to provide our clients with genuine spare parts with the highest quality, exact fitness and appropriate function. With our global distributor network, you are guaranteed with fast delivered and services, wherever you are, please submit your spare parts request to us, and list products name, model, equipment serial number, description of required parts. We guarantee that your request will be handled quickly and appropriately.
3.Installation&Maintenance
Gold Dafeng is able to provide you with the overall installation of complicated machinery and equipment, allowing you to start the normal operation of handling machinery immediately. After installation, we will make inspection of the whole machine, operate equipment, and provide you with testing data reports of installation and operation.
4.Training
Gold Dafeng offer perfect facilities and comfortable environment and can provide training service to different users. The training sessions include product training, operation training, maintenance know-how, technical know-how training, standards, laws and regulations training and other training, all of which are tailored to fulfill your individual needs. Training programs can be conducted in our factory field, or at the client`s site.
5.technical advice
Gold Dafeng can also help clients coordinate with trained service personnel to provide you detailed and extensive knowledge about your specific machine. With our technical advice, your machine service life can be significantly prolonged and sustained with high capacity.